Okay, since I'm pretty much an oc (and oc fashion for that matter) adict, I must say that I adore this community, although it still needs to be built up a bit. So anyways, today I'm here to give a general overview on where the OC stylist gets the clothes that the kids wear. I'm from LA and definitely a seasoned shopper, so here we go. Brace yourself: this is a looooooong post. I went a little overboard on store descriptions and stuff. (Oh, and if you live in LA, I gave you locations here to find the stuff!)

1.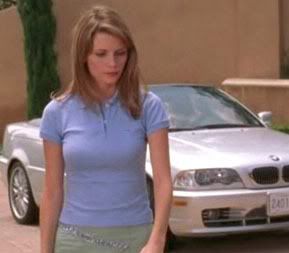 www.lacoste.com
Good old Lacoste. These preppy polos are seen all the time on the show, especially on Miss Mischa. Coming in a huge range of colors, you can always find one to fit your needs. They're a bit pricey at $70-$80, but they're well worth it because they last forever (if taken care of) and can be worn with almost anything. There's a Lacoste store in Beverly Hills, not sure of the street at the moment, but if you walk around you'll probably find it.
2.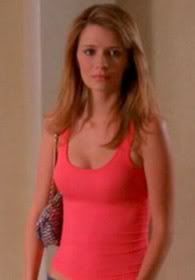 James Perse makes t-shirts and tanks like the one seen here. These also come in a bunch of colors. The nice thing about JP tops is that they're really versatile. You can wear them alone, over a bathing suit, or under another shirt. They're priced at about 40 bucks a pop, but they're definitely really nice. I'd say the only problem with them is they're REALLY form fitting (just take a look at Mischa), so if you're uncomfortable with stuff like that JP's probably not your brand of choice. JP can be found at most department stores, they usually stick them in the jeans department by Juicy, Miss Sixty, etc.
3.

American Eagle seems like a surprising choice for the OC stylists, but they actually get a lot of the t-shirts the girls wear from there (Rachel's wearing the AE shirt in the pic, btw). American Eagle clothes are really awesome, and the stuff is all realllllly cute. The other perks: the clothes aren't too expensive, they're comfortable, and there's a wide variety to choose from, to fit mostly all of your needs. There's an AE on the 3rd street Promenade in LA, across the street diagonally from the AMC theater.
4.

Anthropologie's a totally feminine, funky store. (Concentrate on Mischa in the picture - her skirt's from there, and the polo's from - guess where! Lacoste!) Filled with lots of flirty skirts, tops, and dresses, the clothes are all really cute. I'd say the only problem with Anthropologie is that the clothes tend to be on the expensive side, so if you're on a tight budget it's probably not the best choice. (The skirt M is wearing is like $118 or something like that). There's an Anthro on the 3rd street promenade, one or two blocks down from the AMC, on the same side of the street.
5.

Lisa Kline is a Beverly Hills boutique selling upscale designer clothes, jewelry, and accessories. The OC used a bunch of stuff from the store this season, and if you go on the Lisa Kline website they mark what's been used on the show (eg. "The OC Diane Von Furstenberg Bermuda Top). LK is pretty expensive (the orange shirt Mischa's wearing is like $498), but the clothes are really adorable. If you're not *only* interested in the OC, other celebs shop here too. Jessica Simpson had to have the store shut down while she was inside because people were pretty much mobbing her. Lisa Kline in BH is on Robertson, a couple blocks down from the famous Ivy restaurant (which is an awesome celeb sighting place - I saw Zach Braff there!)
6.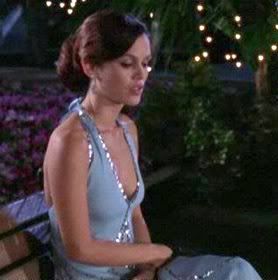 Marc by Marc Jacobs. The clothes are gorgeous, well made, and totally expensive. I actually saw this particular dress at a store and flipped out because it's more beautiful in person than it is here. Marc Jacobs is obviously a well known designer, and all of his stuff (from the purses to the clothes) are ............. magnificent. MJ can be found at department stores. It's really a fantastic brand.
7.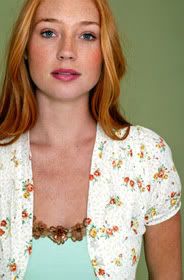 Just one more reason to love Urban Outfitters. (Sorry, the better picture of this bolero is on the model, which is why I stuck it on). Urban's moderately priced, with stuff for girls and guys. It's one of my all time favorite stores, because it's the kind of place where you go in and just grab TONS of stuff because it's all so cute. (Another perk: those bean-filled pillows can be bought at Urban. Love those.) Again, not too expensive (this bolero's $38), but it's really adorable stuff for a range of different tastes. There's an Urban on the 3rd Street Promenade, about a block or two away from Santa Monica Place. (Oh, and remember that "mischief" tee everyone loved that Alex wore in "The Rainy Day Women"? Yep-from Urban, but unfortunately no longer available : ( )
8.

I just had to stick in One Girl Who because I love their stuff, and my family knows the owner (and she's totally nice). I happen to own this sweater, as well as many others. They're cute, comfortable, and the cashmere ones are sooooo stuff. She plays around with different designs and styles, and they're all worth buying. The sweaters are moderately priced, as well as the t-shirts and jackets. One Girl Who can be found at department stores like Nordstrom's (there's one in the Westside Pavilion in LA).

Other brands commonly used: Juicy, Chanel, Seven for all Mankind, and Theory (all department store/boutique stuff - usually pretty expensive)

Well, I hope you enjoyed that. Please comment, I worked hard, so tell me if you found it helpful!!! :-)